"I have worked with Lecair Electric on several remodel jobs with total satisfaction. I will always use them in the future."
Michael N.
Licensed Electrical Contractors
Whether you're looking to install a generator or you need a light fixture repaired, you can rely on the Sacramento electricians of Lecair Electric to get the job done right. The electrical contractors from our locally owned and operated company are committed to the satisfaction of all our residential and commercial clients.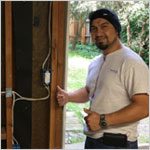 We have over 10 years of experience, and our professional personnel have the tools and training to handle most electrical projects. We gladly offer free quotes and up-front flat-rate pricing. Our punctual staff provides flexible appointment availability, and we're fully licensed and insured.
Don't hesitate to call us today if you're looking for an electrical contractor who serves the Greater Sacramento area. At Lecair Electric, our journeyman and master electricians are courteous, and they take pride in quality results. We have SMUD rebates available, and we're ready to furnish assistance with any electrical issue you may have in mind.


OFFERING YOU OPTIONS
We carry a wide range of electrical product styles to suit your budget and taste. From large to standard to small units, we'll help you choose the product that's best for you. We pride ourselves on complete professionalism in all that we do; and we pledge to leave your space looking neat and tidy once our installation work is complete.
Troubleshooting/Service calls
Most electrical malfunctions can be identified and corrected in a relatively short amount of time by our experienced and highly skilled electricians. Do not hesitate to call- no job is too small- and minor problems can develop into larger ones if ignored. Whether for your home or business, we fix your electrical issue, or the service call is free!
Electrical Service Upgrade
With home and business owners consuming more and more energy every year, it's often necessary to upgrade your electrical service to accommodate the extra demand. Air conditioners alone use more power than entire households did 30 years ago. And if you're running a business or an institution, the need for reliable energy becomes all the more crucial. In order for your electrical equipment to function at its optimal capacity, it is absolutely essential to heavy-up, or upgrade, your electrical service. And Lecair Electric Inc. is a leading provider of such services in Sacramento, CA.
At Lecair Electric Inc., we've developed a time- and cost-efficient electrical service upgrade process, which includes:
Permit acquirement
Removal of all existing equipment
Installation of new equipment such as cables and circuit breakers
Post-installation inspection and cleanup
Lighting
We have extensive experience installing and upgrading lighting- recessed lights, decorative lights, office lights, exterior lights, LED lights, fluorescent lights, lighting control, switching, occupancy sensors, photo cells and more. Lecair Electric is a leading installer of all types of lighting. Call to set up an appointment for your free estimate today. Take advantage of utility company and tax rebates, while enjoying lower electric bills by upgrading to energy efficient lighting.
Dedicated Circuits
A dedicated circuit is often needed to supply power to a specific outlet. Existing circuits being overloaded, code compliance or safety issues, purchase of a new appliance requiring its own circuit are examples when a dedicated circuit is necessary. Appliances include; electric car chargers, refrigerators, microwave ovens, freezers, clothes dryers, electric ranges, heaters, HVAC units, water heaters, welders or other garage outlets to name a few. Whether 120, 208 or 240 volts are required, correctly sized conductors and circuit breaker are essential. Lecair Electric is a leading installer of dedicated circuits, call today for a free estimate.
Panel Upgrades
There are several reason for a potential service panel upgrade, including but not limited to: ageing or deteriorating parts, an increase in the overall electrical load(demand) of the property, code-compliance issues, relocation of the panel for any reason, etc. Whatever the reason, we are available to answer your questions and to provide a safe and professional installation, permit included.
Maintenance
We are experts in the upkeep and preservation of electrical systems responsible for providing uninterrupted power to buildings and equipment vital to you. Whether it is regularly scheduled preventative maintenance or a one time inspection to ensure all connections are correct, we want to be your electrical contractor.
Commercial
Services provided for commercial units including build-out services for empty shell structures. Proposals/estimates provided at no cost for a variety of projects, from a simple dedicated circuit up to a complete office T.I. Professionally drawn design services are available.
Lighting Repair and Servicing
Your lighting plays an integral role in your business or home. But when your setup starts to deteriorate or your fixtures need replacing, it's important to find a team you can trust to offer quick and efficient lighting repair services. And that's exactly where we can help. Here at Lecair Electric Inc., we're proud to help home and business owners like you throughout Sacramento, CA with all of your lighting repair needs.
At Lecair Electric Inc., we approach each lighting repair job we undertake with precision and care. Whether you need to rewire an old fixture in your home or address a faulty setup issue at your place of business, our team is at your service. No job is too big or too small, and we pride ourselves on our thorough, comprehensive approach to electrical repair work.
Recessed Lighting Installation
Whether you're renovating your entire interior or simply wish to add a bit of light to a specific room, recessed lighting is an easy and elegant solution. At Lecair Electric Inc., our recessed lighting setups are designed to enhance the look and value of your home or business while providing the comfortable, functional atmosphere you're looking for.
At Lecair Electric Inc., we pride ourselves on being prompt, thorough, and efficient. No matter the layout of your home or business, we can design and install a recessed lighting solution that's ideal for your space. From kitchens to dining areas to large-sized conference rooms, our recessed lighting is a terrific addition to any part of your home or office.
Don't settle for intrusive, clunky lighting that gets in the way and detracts from your interior's aesthetic appeal. Call Lecair Electric Inc. to request an estimate and learn more about the recessed lighting solutions we have to offer.
Cabling Contractor
When it comes to electrical wiring, it's best to leave the work to the experts. And that's precisely where we come in. At Lecair Electric Inc., we offer comprehensive electrical wiring services for homes and businesses throughout Sacramento, CA. No matter the size of your property or scope of your project, we have the tools and skills to complete it accurately and efficiently, all the while maintaining the high standard of quality you've come to expect.
The team at Lecair Electric Inc. is ready to tackle a variety of electrical wiring jobs. From new construction to renovations, we'll get your property wired so that your electrical setup is up to code. We go out of our way to pay attention to detail on every project we work on; and we aim to keep our rates reasonable without compromising on quality or service.
Electric Vehicle Charging Station
Our roads are playing host to more high-efficiency cars and trucks than ever before. As plug-in hybrid and electric battery-powered vehicles become increasingly popular, demand is increasing for fast, easy ways to re-power on the go. Lecair Electric Inc. is your source for electric vehicle charging stations in Citrus Heights, CA.
POWER WHEN AND WHERE YOU NEED IT
At Lecair Electric Inc., we're as committed to protecting our fragile earth and its resources as you are, and we believe that plug-in hybrid and battery-powered electric vehicles have important roles to play in our clean-energy future. As part of our commitment to our customers and our environment, we strive to make it easy, convenient, and cost-effective for owners of gas-saving vehicles in Citrus Heights, CA to recharge their cars and trucks so they can stay on the road longer while consuming less fuel.
Want to learn more about our electric vehicle charging stations? Contact Lecair Electric Inc. in Citrus Heights, CA today.
Lecair Electric can also provide you with these Additional Electrical Services and more!
Arch fault protection
Ballast replacement
Bathroom fan / lighting
Breaker change outs
Cable TV outlets
Ceiling fan installation
Chandelier installation
Circuit troubleshooting
Code corrections
Custom wiring
Dedicated circuits
Electrical inspections
Electrical maintenance
Flat screen TV mounting
Garage circuits
GFCI protection
Home appliance circuits
Home appliance circuits
Home audio wiring
Home office circuits
Hot tub circuits
Landscape lighting
Light fixture installation
Low voltage lighting
New electrical panel
Patio / porch lighting
Phone jacks
Recessed lighting
Security lighting
Sub panels
Surge protection
Under cabinet lighting
Underground wiring
CONTACT INFO
We look forward to working with you!
Phone: (916) 735-3144
E-mail: [email protected]
Address:
PO Box 693
Citrus Heights, CA 95621
*CSLB #994305
FROM OUR CUSTOMERS
Exceptional service and knowledge
"In working with Lecair electric, the service is exceptional. Dylan the owner is very knowledgeable, completes the work either on time or early; and the cost is reasonable. I would highly recommend Lecair electric, and will continue to use Dylan and Lecair Electric as my primary electrician."
Professionally, Jim M. Broker